The fight against elephant poaching in Africa
Anyone with an interest in wildlife conservation, such as Tunde Folawiyo, will probably be aware that the African elephant is currently at risk of extinction. Recent reports suggest that at least 20,000 were killed in the last year alone. According to CITES (the Convention on International Trade in Endangered Species), illegal poaching rates are significantly higher than elephant birth rates, meaning that if this trend continues, the species is likely to die out in the very near future.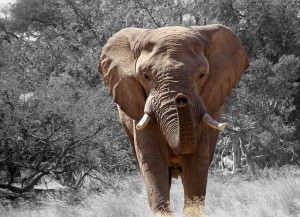 The demand for ivory in Thailand is believed to be one of the main reasons why elephant poaching has become so commonplace in Africa. Following the ban on the sale of ivory in this Southeast Asian country, illegal traders are now seeking to import this product from abroad. A statement released by TRAFFIC explained that there is an enormous amount of ivory for sale in Bangkok, and that this quantity could not possibly have originated just from Thai elephants. Ivory is believed to be smuggled into Thailand, where it is then either crushed into powder form for medicinal use, or carved into ornaments.
Whilst elephant poaching is widespread in Africa, it has become particularly commonplace in Kenya. Just recently, the wildlife conservation community suffered a huge blow, when one of their most beloved elephants, 'Satao', fell victim to poachers. The creature, who resided in Tsavo East National Park, was killed with a poisonous arrow, after which his tusks were taken. The incident was investigated by the Kenya Wildlife Service and the Tsavo Trust; these two organisations had been monitoring the movements of Satao and other elephants in the park for more than a year and a half.
As a conservation enthusiast, Tunde Folawiyo may be aware that the poaching of elephants is also a serious issue in Mozambique; approximately four of these animals are killed by poachers each day in the Niassa National Reserve, and over the past five years, the park's elephant population has fallen by 55%. However, two NGOs – the International Rhino Foundation, and the Environmental Investigation Agency are now hoping to put a stop to this activity here by calling on the US government to issue trade sanctions. The organisations contend that the authorities in Mozambique have not done enough to end poaching, and that these sanctions would persuade them to dedicate more of their resources to combating this problem.