Tunde Folawiyo | AWF Combats Poaching Amid Famed Elephant's Slaying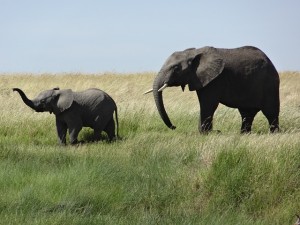 According to news reports released mid-June, the amount of poached elephants within Africa has declined for the second year in a row. The findings estimate that nearly 20,000 of Africa's elephants suffered poaching during 2013, compared with 25,000 slain during 2011 with 22,000 slain during 2012. Tunde Folawiyo and millions of others across Africa may join the efforts of the AWF in combatting the devastating poaching plaguing the lands of Africa. Collectively, these joint efforts have the ability to forge a greatly significant impact on the future of Africa's endangered species. Recently, one of the Africa's most famed elephants was slain by poachers, a devastating blow to the battle against the ivory trade. With the death of this beloved animal and thousands of others across the land, the need for intervention has never been greater.
CITES, an organisation dedicated to the preservation of endangered animals, has reported the findings. Whilst the declining figures are a positive sign of change, AWF's Dr. Muruthi maintains the rate is still much too high, as well as unsustainable. The recent loss of a famous bull elephant of large size in Kenya has drawn attention to the severe effects of poaching and the AWF continues to strengthen efforts on land in order to ensure a continual decline in poaching figures.
Seizures of large scale have seen an overall increase with those in Africa surpassing Asia's numbers for the very first time. This may be a collective result of enhanced law enforcement throughout Africa. Of these seizures, eighty percent occurred collectively in Kenya, Uganda and Tanzania. According to Muruthi, these seizures mean a decline in ivory reaching Asia.
AWF continues to work to enhance law enforcement organisations across the sub-Saharan African region in order to combat an increase in wildlife trafficking and poaching. It has shown support for Kenya's Canine Unit which utilises sniffing dogs to locate contraband ivory.
Whilst CITES' figures show an increase of the amount of poached elephants in countries like the Central African Republic, others like Chad have shown an impressive decline in the act. Factors such as weak governance, poverty and a mislead demand of ivory throughout Asia are amongst those driving poaching throughout Africa. Tunde Folawiyo and others hoping to preserve the continent's wildlife may join efforts with the AWF in order to forge an impact on the future of elephants and many other species around the region. For more information on how to contribute to the AWF's mission to improve conditions for endangered animals and the communities that house them.